Tunnelloppet (The Tunnel Race), Stockholm 2004
42 km, 17 October 2004
One week before the South link tunnels were opened for traffic, there was a race for runners and inline skaters in the tunnels. Totally ca 15.000 runners and ca 3.200 inlineskaters participated.
There were two distances for the inline skaters but all of the photos shown here are from the long distance (4 laps, ca 42 km) where ca 1.100 skaters participated.
Almost all of the photos are taken by photographer Johan Ekstam and they are published here by courtesy of Jan Herrström. Thanks also to Steve Gustavsson at IS Göta for his kind contribution.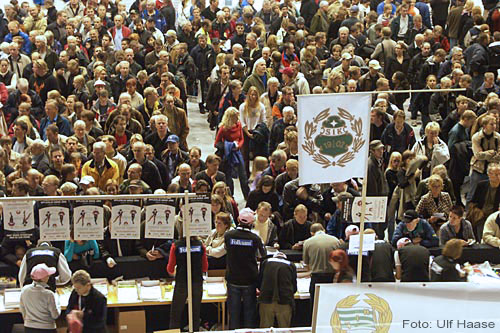 Picking up the number bibs the day before the race.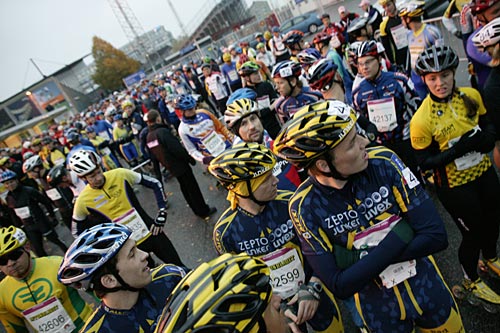 Team Zepto from Germany and among others Nils Olsson (Stora Tuna IK),
Patrick Eggers (Aarhus 1900, Denmark), Steve Gustavsson and Jonas Berggren (IS Göta).
(Photo: Johan Ekstam. Published by courtesy of Jan Herrström.)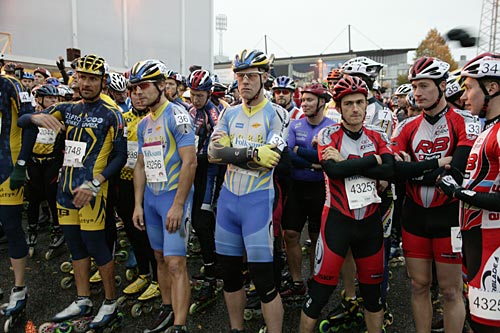 Mats Brus and Johan Olsson (Team Rollerblade Sweden),
Arnaud Gicquel, Fabien Rabeau and Alexis Contin (World Team Rollerblade).
(Photo: Johan Ekstam. Published by courtesy of Jan Herrström.)

In front some of Team Södermalms IK skaters: Jonas Olofsson, Ulf Haase, Tobias
Roos, Patrik Pramdal, Jan Herrström, Johan Magnius and Björn Drakenward.
(Photo: Johan Ekstam. Published by courtesy of Jan Herrström.)

The last skaters entering the tunnel.
(Photo: Johan Ekstam. Published by courtesy of Jan Herrström.)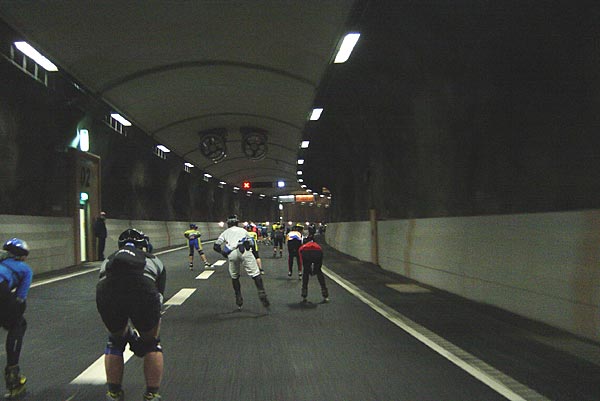 In the tunnel. The skater in white is Peter Nikkel from Netherlandes (opens in separate window).
90 % of the course was in the tunnel but since neither spectators nor photographers were allowed to enter the tunnel there are not many photos from there.
(Photo: Steve Gustavsson at IS Göta.)

The leading pack coming out of the tunnel after their second lap: Axel Hildebrand, Johan Håmås and the Team Rolerblade. The skaters in the background are still on their first lap.
(Photo: Johan Ekstam. Published by courtesy of Jan Herrström.)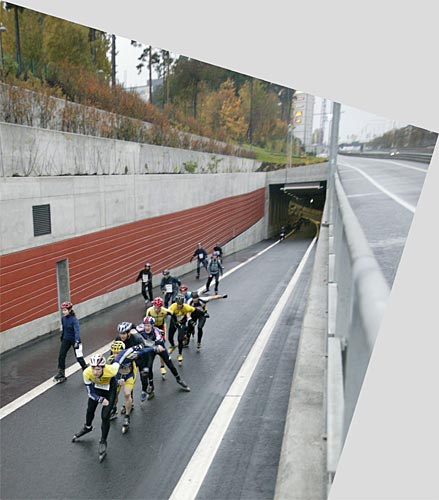 Coming out of the tunnel after their second lap: Nils Olsson in front.
(Photo: Johan Ekstam. Published by courtesy of Jan Herrström.)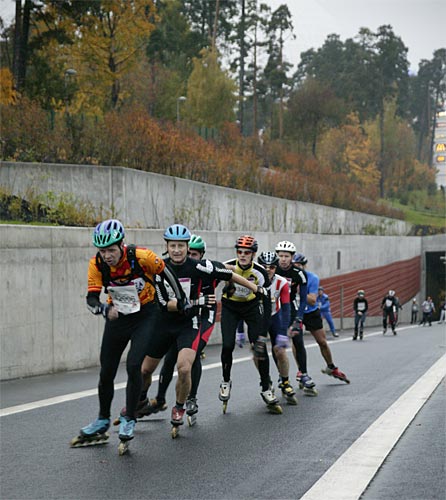 Coming out of the tunnel after their second lap: Mårten Ajne, Johan Cerne, Jonas Olofsson, Jimmy Nilsson, a finnish skater (25662), Patric Pramdal and Ulf Danielsson.
(Photo: Johan Ekstam. Published by courtesy of Jan Herrström.)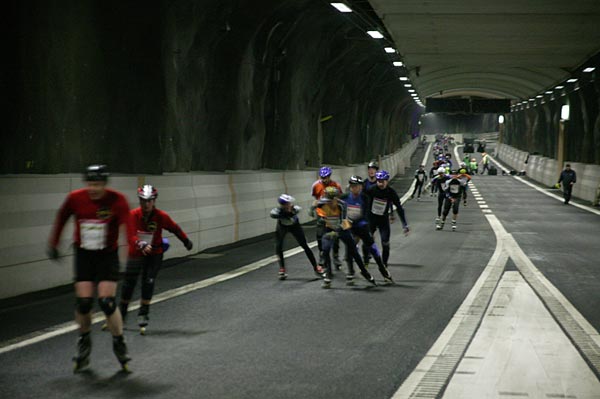 Skaters almost at the end of their second lap.
(Photo: Johan Ekstam. Published by courtesy of Jan Herrström.)

The leading pack entering the tunnel for their third lap.
(Photo: Johan Ekstam. Published by courtesy of Jan Herrström.)

(Photo: Johan Ekstam. Published by courtesy of Jan Herrström.)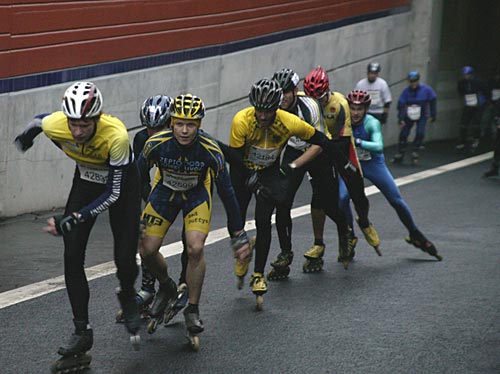 Coming out of the tunnel after their third lap: Nils Olsson, Michael Klinger, Torbjörn Hägglund, Gunder Boström, Ronnie Hases, Lars Fougstedt and Sulev Lokk. The skaters in the background are still on their second lap.
(Photo: Johan Ekstam. Published by courtesy of Jan Herrström.)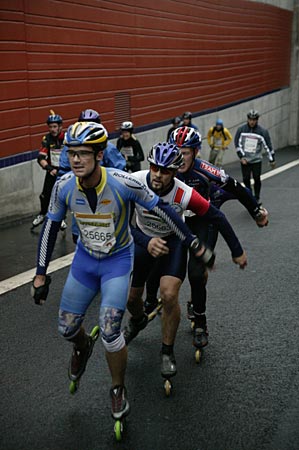 Coming out of the tunnel after their third lap: Rickard Almkvist,
skater 25663 and Ronny Myllynen.
(Photo: Johan Ekstam. Published by courtesy of Jan Herrström.)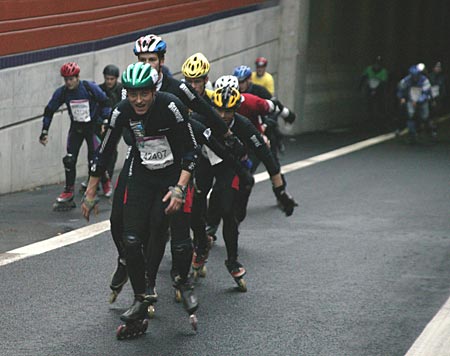 Coming out of the tunnel after their third lap: Ulf Haase, Björn Drakenward,
Daniel Andersson and Jon Bergström.
(Photo: Johan Ekstam. Published by courtesy of Jan Herrström.)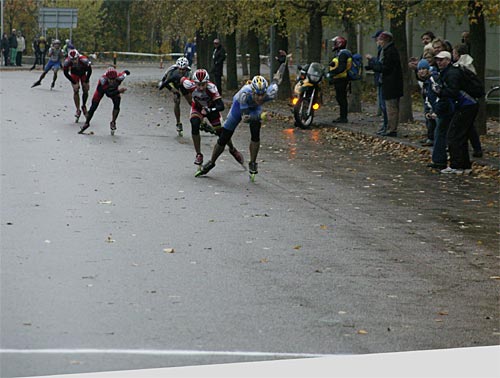 Sprint for the finish line. Johan Olsson (Team Rollerblade Sweden) in front...
(Photo: Johan Ekstam. Published by courtesy of Jan Herrström.)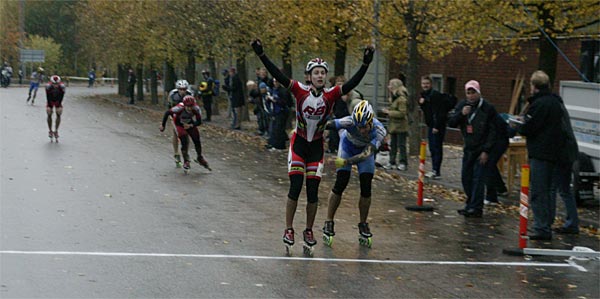 ... but Alexis Contin (World Team Rollerblade) wins.
(Photo: Johan Ekstam. Published by courtesy of Jan Herrström.)

Happy skater (Ulf Haase) ends up as number 21. Tobias Roos is right behind.
(Photo: Johan Ekstam. Published by courtesy of Jan Herrström.)

Catrine Grage (Vesterbro Rulleskøjte Klub, Denmark), winner of the women class.
(Photo: Johan Ekstam. Published by courtesy of Jan Herrström.)

Another happy skater, Johan Cerne, ending up as number 27.
(Photo: Johan Ekstam. Published by courtesy of Jan Herrström.)

We continued to a symbolic finish inside of the Globe Arena.
(Photo: Steve Gustavsson at IS Göta.)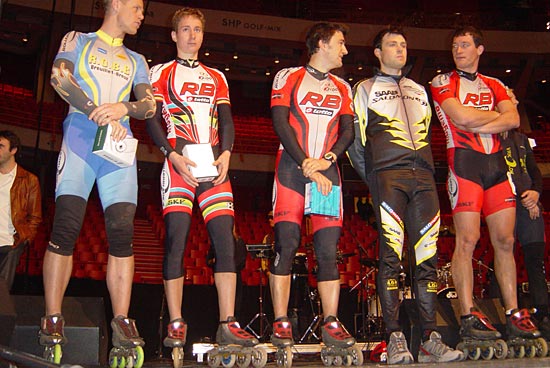 Prize ceremony:
Johan Olsson, Team Rollerblade Sweden (2), Alexis Contin, World Team Rolerblade (1),
Arnaud Gicquel, WTR (3), Johan Håmås, Team Salomon Sweden (4) and
Fabien Rabeau, WTR (5).
(Photo: Steve Gustavsson at IS Göta.)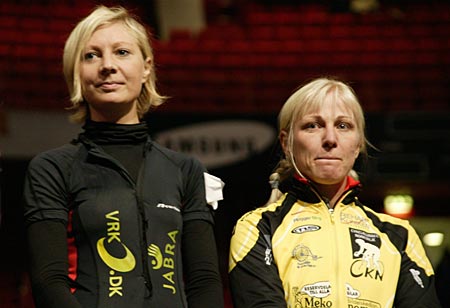 Prize ceremony:
Catrine Grage, Vesterbro Rulleskøjte Klub, Denmark (1) and
Ulrika Andersson, CK Norrtälje (2).
(Photo: Johan Ekstam. Published by courtesy of Jan Herrström.)

Finisher medals.
(Photo: Johan Ekstam. Published by courtesy of Jan Herrström.)
---
More:
Premiere skating in the tunnel seven months before the race
Test skating in the tunnel two months before the race
(Both links open in separate windows.)