Premiere skating in the tunnel (31 Mars 2004)
Copied from the Tunnel Race homepage before the race:
"The South Link [in Stockholm] is Sweden's largest road tunnel project [...].
Around 60 000 vehicles will be able to pass through the tunnels every 24 hours."
In October, one week before the tunnels were opened for traffic, there was a race
for inline skaters and runners in the tunnels.
In Mars, seven months before the race, a TV sports channel filmed in the tunnels for a news segment about the upcoming Tunnel Race. Jonas and I represented inline skaters during the filming.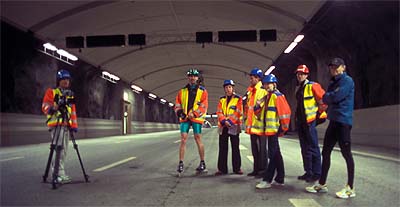 Second from right is Jan Magnusson, project leader of the Tunnel Race,
furthest right is Fredrik Ölmqvist who represented the runners.
(Photo: me)

Jonas, one of the two first skaters ever in the tunnels.
(Photo: me)

Jonas.
(Photo: me)

Me.
(Photo: J. Olofsson)
On TV 26 April 2004: