Skate school on radio
Broadcasted live 7 Oct 2004, 7 a.m. to 8 a.m.
As a part of the promotion for the Tunnel Race 17 October (opens in separate window) two skaters were invited to o one of Stockholm's larger commercial radio stations.

There they taught Ina Jönsson (presenter at the radio station) and Cissi Cissi Bang (Marketing Director at a sponsoring car company) inline skating and it was broadcasted live.

From left: Ina Jönsson, Cissi Bang, ?, ?, Mårten Ajne and Jan Herrström.

Sitting far left is Ian Haugland, drummer in the band Europe.

This promotion photo of Ina Jönsson was hanging in the studio.

In the beginning.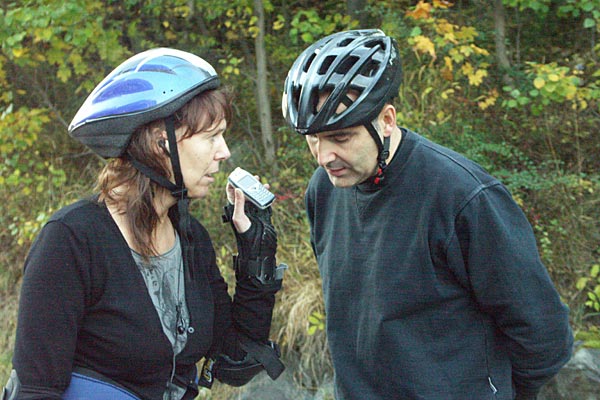 Report to the studio, broadcasted live. Ina Jönsson and Jan Herrström.

On air, Ina Jönsson and Mårten Ajne.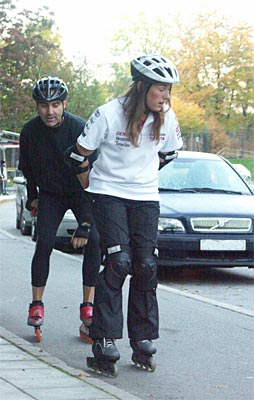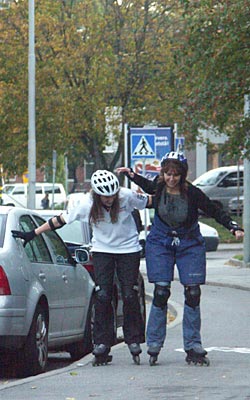 After 30 minutes they were skating very well!

Happy end.
Mårten Ajne, Jan Herrström, Ina Jönsson and Cissi Bang.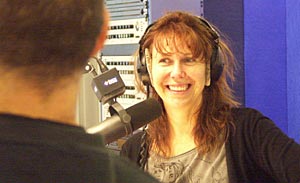 After skate talk in the studio.
The lesson turned out well; both Cissi and Ina decided to participate in the Tunnel Race.