Robbed!
This was my third camera.
I bought it 1974 and used it until the last minute when I was robbed of it 1983
(see below).

Canon FTb ("old model"), serial number 678511.
Lens FD 50 mm, f 1:1.4, serial number 220318.

1974. Including flash National PE-2850 and lens Tokina 200 mm f 1:3,5.

Selfportrait, August 1975.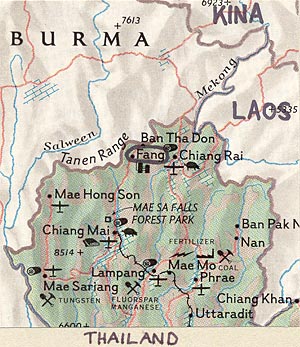 In January 1983 I went for a 5 day trek in Mae Ai area (near Fang, north Thailand).
The trek abruptly ended in the morning of the second day (se newspaper clip below).

* "...three Germans and one Australian...",
correct it should be:
"...two Germans, one Swede and one Australian..."

Two of the last photos taken with the camera in the evening before the robbery.
---
Five days later I bought a new camera, a Canon AE-1
that I used until 2004.
<==
---

As I got back to Sweden I bought a second hand Canon FTb ("new model") but I almost
never used it.
Back to camera menu.