Donauinsel in Vienna (Austria), June 2002
These photos were taken with an one-time-use-camera and are of unusually bad quality.
When I went to Vienna I brought my skates to be able to participate in the
Friday Night Skating Vienna. Unfortunately it was canceled by rain. On Saturday afternoon
the rain stopped and as consolation I went to Donauinsel because I had heard that you
could skate there.
Donauinsel is an artificial island that was created 1973 - 1985. Vienna had problems with
Donau flooding so it was widened by digging a canal (Neuer Donau) along the east shore.
The excavation material was put in the middle (between Donau and Neuer Donau) and
became this artificial island that now is used for recreation.
The island is 21 km long so if you visit both ends and go back to your startpoint you have skated a marathon distance.
(Photo: me)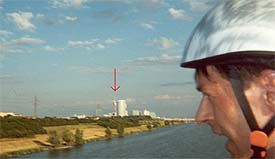 32 years ago I had lunch in the top of the tower (Donauturm) in the background.
(Photo: me)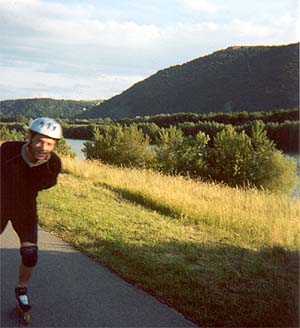 Heading north.
(Photo: A friendly austrian biker)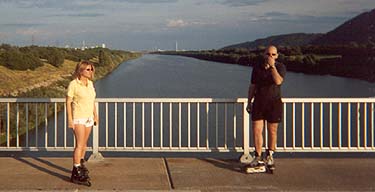 At the north end of the island.
(Photo: me)

Starting the trip to the south.
(Photo: A friendly austrian man)
I went to the south end of the island as well but had run out of film. Seeing the results above it didn't matter.