Stockholm Inline 2004, 30 km
Enköping - Kungsängen, 28 August 2004
Roadworks between Västerås and Enköping made that the course had to be shortened to less than half the distance compared with Stockholm Region Inline last year (opens in separate window).

We started in Enköping and the finish was in Kungsängen (outside Stockholm).

Totally 206 inline skaters reached the finish line in the 60 km distance (there was also a 20 km race).

All photos are taken by Hanna Rudberg.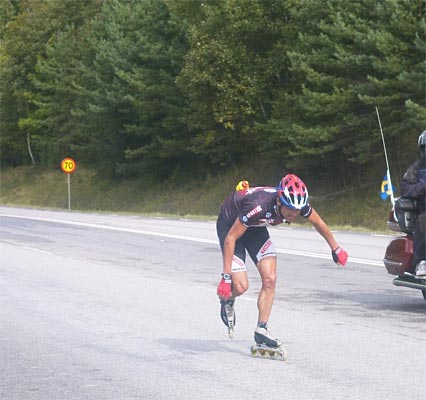 Tristan Loy leading at 33 km.
(Photo: Hanna Rudberg. Published by courtesy of S.Rudberg.)

Johan Magnius and Ulf Haase at 33 km, passing as nr 11 and 12.
(Photo: Hanna Rudberg. Published by courtesy of S.Rudberg.)

A few minutes after us came this pack with, among others, Mårten Ajne (in front) and
Jukka Kivikoski.
(Photo: Hanna Rudberg. Published by courtesy of S.Rudberg.)

Uphill again, this time at 46 km. Among others in this pack: Mats Brus and Nils Olsson.
(Photo: Hanna Rudberg. Published by courtesy of S.Rudberg.)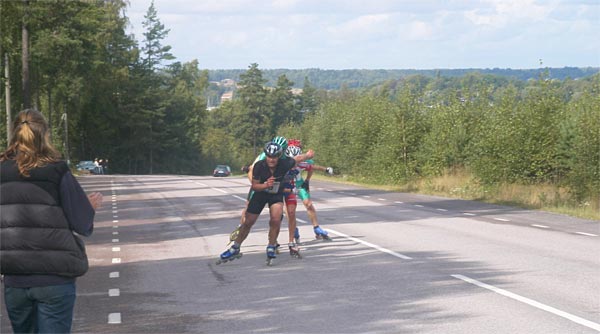 The pack I was in at 46 km, Torbjörn Hägglund in front.
(Photo: Hanna Rudberg. Published by courtesy of S.Rudberg.)

Torbjörn Hägglund (in front), Celine Weiss, Ulf Haase, Ronnie Hases
and Johan Magnius at ca 52 km.
(Photo: Hanna Rudberg. Published by courtesy of S.Rudberg.)

Jukka Kivikoski having a hard time at the railway viaduct in Bro, 53 km.
(Photo: Hanna Rudberg. Published by courtesy of S.Rudberg.)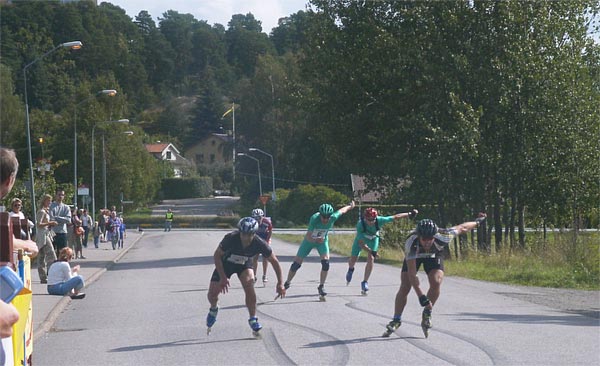 Sprint for the finish line in Kungsängen:
Torbjörn Hägglund (10), Celine Weiss (winner of the women class), Ulf Haase (11), Johan Magnius (12) and Ronnie Hases (9).
(Photo: Hanna Rudberg. Published by courtesy of S.Rudberg.)
---
More:
Here are three photos of Tristan Loy taken by me on Sardinia 2002.
(Opens in separate window.)