Solskenet, 70 km, August 2002
These photos are from Solskenet, Sweden's largest inline competition.
Start in the city Varberg and finish in the city Halmstad.
I had been ill and this was the eleventh time I skated after the operation.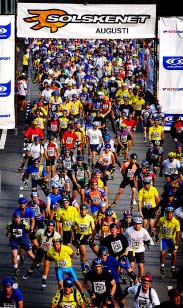 The start in Varberg.
The race started in nice weather but after a while it started to rain.
(Photos published by courtesy of photographer Annika Karlbom at
Hallandsposten
.)
---
The four photos below are taken by Erik Anell who was standing 5,8 km from the start.
(In Swedish: Vid den bortre infarten till Träslövsläge (i höjd med ICA Ankaret)/avtagsvägen till Himle.)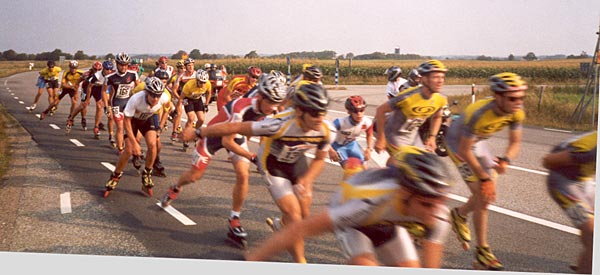 The first pack with among others Johan Håmås and Fabien Rabeau. A sharp eyed person can spot Björn T från Södermalms IK.
(Photo: E. Anell)

In the next pack Södermalms IK was represented by Sven R and Jonas O.
(Photo: E. Anell)


Right behind was Johan N and Tobias R, also from Södermalms IK.
(Photo: E. Anell)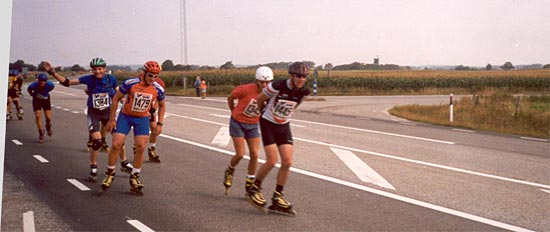 Far behind all the others came the happy patient (waving).
(Photo: E. Anell)
---

Me (in blue with green helmet) at 58,5 km.
Result (total, all classes): I ended up as nr 72 of the 846 participants that reached the finishline on this rainy day with many accidents.